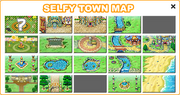 SELFY TOWN is a flash-based virtual world where users use their SELFY avatars to interact and chat with each other. It has many uses, such as fishing, holding site events, taking care of chibi pets, adding others to your friendlist, etc.
Directory
There are a total of 20 areas to explore, but only 18 have been revealed so far, with one of the greyed out areas temporarily holding the event for Digital Dream Concert event.
External Links
Ad blocker interference detected!
Wikia is a free-to-use site that makes money from advertising. We have a modified experience for viewers using ad blockers

Wikia is not accessible if you've made further modifications. Remove the custom ad blocker rule(s) and the page will load as expected.