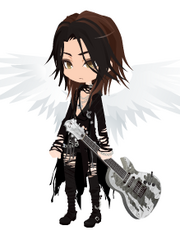 SUGIZO is a composer, guitarist and violinist and is a founding member of the band LUNA SEA and has recently also created a number of solo masterpieces and is part ofnumerous other bands such as the legendary trance techno band JUNOREACTOR and the internationally famous rock supergroup X JAPAN.
In addition to his musical pursuits, SUGIZO also
takes part in numerous
anti-war an environmental activities. SUGIZO is currently touring
the world with the LUNA SEA 20th ANNIVERSARY REBOOT ~to the new moon~ tour,
and will be performing in Los Angeles on Dec. 4! Don't miss it!
【SUGIZO WEB】
OFFICIAL WEB SITE:http://www.sugizo.com
OFFICIAL Myspace:http://www.myspace.com/sugizo
OFFICIAL Facebook:http://www.facebook.com/SUGIZOofficial
OFFICIAL twitter:http://twitter.com/SUGIZOofficial
Ad blocker interference detected!
Wikia is a free-to-use site that makes money from advertising. We have a modified experience for viewers using ad blockers

Wikia is not accessible if you've made further modifications. Remove the custom ad blocker rule(s) and the page will load as expected.