Rickety Rope bridge is a fishing area in SelfyTown.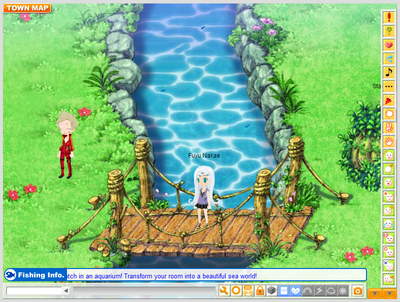 Description
Rickety Rope Bridge is a fishing area in SelfyTown. There is nothing really special or exciting about this area except that it might be the starting point of the river that crosses Fishing Guild and end at Plop-Plop Waterfall. 
The area is a nice, green field with a river going through it. The grass is dotted in red flowers (as usual, in almost every area in SelfyTown), and there is a dirt mound on the right side with vines growing all over it (the "dirt mound" might be a vase). The bridge that connnects both sides is near the bottom of the screen; the wooden bridge appears to be really crooked and old, with nails and steaks supporting it. There are also vines and weeds in the grass that seem to be curling themselves around the steak of the bridge. The bridge looks like it may break (it never will, it just looks that way).
Down: Fishing Guild
Left: Chat Town
Right: Under Construction
Up: Nothing is above Rickety Rope Bridge, as the area sits on the edge of SelfyTown.
Selfy Town Map Description: "A fishing area with a rope bridge crossing a river."
Gallery
Ad blocker interference detected!
Wikia is a free-to-use site that makes money from advertising. We have a modified experience for viewers using ad blockers

Wikia is not accessible if you've made further modifications. Remove the custom ad blocker rule(s) and the page will load as expected.