Pirate's Booty Hunt!



Start Date

Thursday, Febrary 25th, 2010

End Date

Thursday, March 11th, 2010
The Pirate's Booty Hunt is similar to the Halloween Treasure Hunt event in October 2009. For the event, ten large treasure chests were hidden (on the same ten pages) each day of the event. You can only open each treasure chest once per day. When you clicked one, you'd either get one of the 10 special items or chibi coins.
This event also coincides with the Treasure Island Gacha Campaign, where you have to collect a set of Long Swords and a specific gacha item to exchange into a campaign item.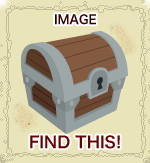 Locations
The Ten chests were hidden:
Prizes
External Links