Kokoro's Kitty Gifts Campaign



Start Date

September 13, 2011

End Date

September 27, 2011
Get adorable with Kokoro apparel and kitty plushies with the Kokoro's Kitty Gifts! Don't miss your chance to get these cute kitties!
Surprise Kitty Box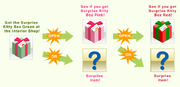 Get the Surprise Kitty Box Green from the Selfy Shop for 50 G-Coins and open it for great prizes. You might get the Surprise Kitty Box Pink for a different level of prizes. If you get the Surprise Kitty Box Pink you can open it and randomly get an item or a chance for the Surprise Kitty Box Red. Open the Surprise Kitty Box Red for your chance to get the ultimate prize, the Chipper Shoulder Kitty action item or the other items available.
Kokoro Blessings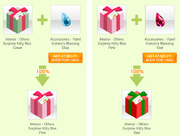 You can use Kokoro's Blessing Blue and Kokoro's Blessing Red to guarantee a Surprise Kitty Box Pink or Surprise Kitty Box Red when you open a box with a blessing.
Kitty Box Prizes
Green Kitty Box Prizes
Pink Box Prizes
Red Box Prizes
External Links
Ad blocker interference detected!
Wikia is a free-to-use site that makes money from advertising. We have a modified experience for viewers using ad blockers

Wikia is not accessible if you've made further modifications. Remove the custom ad blocker rule(s) and the page will load as expected.