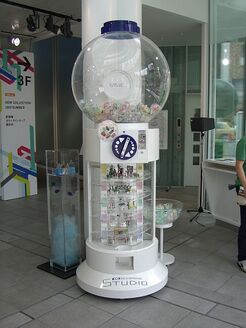 Gachapon is a popular game in Japan where you put in a 100 yen coin (Roughly 1 dollar) or even up to a 500 yen coin and then turn a dial for a capsule to come out. It's similar to the vending machines in America, but in Japan, the items in the machines are made exclusively to be in the machine and are usually of much higher quality. You can find out more about Gachapon here.
Ad blocker interference detected!
Wikia is a free-to-use site that makes money from advertising. We have a modified experience for viewers using ad blockers

Wikia is not accessible if you've made further modifications. Remove the custom ad blocker rule(s) and the page will load as expected.